Fastener Superstore Blog
Nearly 1000 Unique Carriage Bolts in Various Styles, Sizes, Materials & Finishes.
August 26, 2021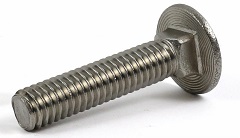 Carriage Bolts feature a rounded low-profile head with a square neck underneath, and are available in full-threaded and partially threaded options.
The square neck is used to provide stability when tightening a nut onto the bolt. Tapping it tightly into a properly sized pilot hole allows the corners of the neck to prevent the bolt from turning as washers and nuts are attached.
Ribbed Neck Carriage Bolts are an option to the square neck style. Vertical ribs run partially down the neck from the under side of the head and provide similar stability when installed into properly sized pilot holes in wood.
Available diameters range from 6-32 through 7/8"-9 in standard sizes, and from M5 through M12 in metric sizes. Lengths of up to 30" and 120mm are available. Steel, graded steel and stainless steel options are available, while finishes include black oxide, black zinc, galvanized, zinc & zinc yellow.
Check out our full Carriage Bolt selection here!