Fastener Superstore Blog
Self Tapping vs. Self Drilling Screws
November 25, 2017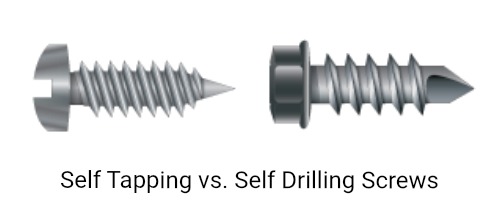 One difficulty many of our customers face when searching for fasteners is the varying terminology that is used to describe parts. One of the most complex issues surrounds the terms "Self-Tapping"; "Self-Drilling" & "Sheet Metal" screws.
A Self-Tapping Screw generally refers to a screw that can start its own hole and/or create its own threads, depending on the material they are being used with. Many of the screws that we carry fit this description, including:
Sheet Metal Screws
Self-Drilling Screws
Self-Piercing Screws
Thread Forming Screws
Thread Cutting Screws
Deck Screws
Drywall Screws
At Fastener SuperStore, each of the above screw types has its own category, with "Self-Tapping" covering the category sometimes referred to as "Sheet Metal" screws. This type of screw is most common in types "A" & "AB", which both feature a sharp, pointed tip, but have different thread spacing. They are very similar and many applications can use either type.
Many of our customers use the term "Self-Tapping Screws" to describe screws with drill points at the tip. On our site, these are found in the "Self-Drilling" Section. We carry a large variety of materials & finishes, each one with many head & drive options.
No matter what you choose to call them, we can always help you find the right part for your application. If you need help, just give us a call or use our live chat feature for quick assistance. We'll find the perfect match within our selection of over 20,000 distinct screw styles.