Fastener Superstore Blog
Black Oxide Parts at Fastener SuperStore
August 04, 2020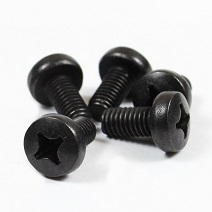 Black Oxide Fasteners are increasing in popularity due to the variety of benefits they can provide.
Unlike most other fastener finishes, black oxide is the result of a chemical conversion, rather than the adding or removing of materials. As a result of immersion in a heated alkaline aqueous salt solution, the surface of the part converts from silver to black.
In addition to creating a smooth and solid black surface, black oxide parts provide several other important benefits.
Being a "conversion coating" means that there is no significant change in the dimensions of the part. It also means that the finish won't chip, flake or rub off.
Hydrogen embrittlement is eliminated. Hydrogen embrittlement is a decrease in toughness of a metal due to the presence of hydrogen. The black oxide conversion process dissipates any hydrogen in the material.
Unlike some electroplated parts, black oxide parts don't experience white corrosion, making them an excellent choice for use in electrical components, as white corrosion can cause electrical shorts.
Black oxide parts, while not specifically resistant to normal corrosion, are generally given an oil bath after conversion, which can add some corrosion protection.
True corrosion resistance can however be achieved by combining a black oxide finish with stainless steel parts.
Fastener SuperStore offers thousands of parts with a black oxide finish. To start shopping, click here!