Fastener Superstore Blog
Countersunk Finishing & External Tooth Lock Washers
May 08, 2018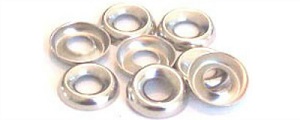 Fastener SuperStore carries two types of countersunk washers: Countersunk Finishing Washers and Countersunk External Tooth Lock Washers.
Countersunk finishing washers are designed to accommodate the heads of countersunk style screws, such as standard flat head and oval head screws. They provide additional bearing surface on the material being fastened and can be used to give a neat, finished appearance.
These washers can be manufactured in several ways. They can be punched from sheet metal, machined from bar stock, or, in some cases, they may be forged.

We provide this style in steel, with a nickel, black oxide or black zinc finish; or in 18-8 stainless steel.
Like the countersunk finishing stye, countersunk external tooth lock washers have a conical shape and are made for use with flat or oval head screws.
We offer these washers in steel, with a zinc or yellow zinc finish; and in 18-8 stainless steel. They are available in 18 size, material and finish options.

Check out our selection today. Give us a call at (866) 688-2500 or chat with us online if you need assistance in finding the right part for your application.