Fastener Superstore Blog
3 Styles of Deck Screws at Fastener SuperStore
May 17, 2018
Fastener SuperStore carries 136 Unique Deck Screws in three categories: 18-8 stainless steel, dacrotized finish (ceramic coating) and stainless steel with a type 17 point.
18-8 stainless steel deck screws are very common because of their corrosion resistance properties. 18-8 is similar to 300 series stainless steel, and is a perfect material for use in outdoor applications where moisture may often be present.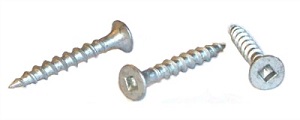 Deck screws with a dacrotized finish are another common material / finish option. A dacrotized finish is a pollution-free ceramic coating for fasteners that are used with treated lumber, as it will not discolor the wood.
Parts with a dacrotized finish have similar corrosion resistance to galvanized parts, but they do so with a thinner and smoother finish. Dacrotized deck screws are generally less expensive than their stainless steel counterparts.
Our 18-8 stainless steel deck screws are also offered with an optional type 17 point. Type 17 is a thread cutting point style with a wide, sharp chip cavity to help with the clearance of materials.

Check out the full Fastener SuperStore selection of deck screws here!