Fastener Superstore Blog
Four Styles of Blind Rivets Available at Fastener Superstore
March 11, 2019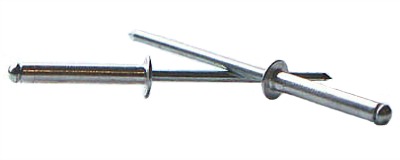 Blind Rivets, also commonly called Pop Rivets, are available in four unique styles at Fastener SuperStore: Standard (Dome) Head; Large Flange; Countersunk Head; and Closed End.
Dome Head Blind Rivets are the most commonly used. They feature a low profile head and a clean finished appearance. The head size is a perfect match for most riveting jobs.
The larger sized head on a Large Flange Blind Rivet allows for the riveting together of softer or more brittle materials, as well as items with less exact or well formed hole sizes.
Countersunk Head Blind Rivets provide a smooth front surface along with better clearance for moving parts that could come into contact with the rivet head, making them a great option for tight spaces.
Closed End Blind Rivets are used in situations where there is no access to the back side of the items being riveted together. Most rivets of this style have a dome head, but countersunk options are also available.