Fastener Superstore Blog
Hex Head Cap Screws vs. Hex Tap Bolts
July 10, 2019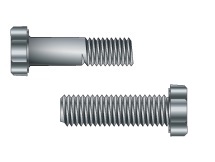 Fastener SuperStore carries hex head bolts in the two most common styles: Hex Head Cap Screws and Hex Tap Bolts.
Hex Head Cap Screws are the most common type of hex head bolt. Starting at 1/4" diameters and going up to 1 1/2", they are generally, but not always, partially threaded. Lengths up to 16" are available.
We carry Hex Cap Screws in a variety of steel grades, including black oxide options in grade 2 steel, and zinc yellow options in grade 8 steel.
18-8 & 316 stainless steel are also available, along with metric sizes.
Hex Tap Bolts are always fully threaded, and are commonly used in drilled or tapped holes which are threaded for their entire length.
We offer Hex Tap Bolts in regular and grade 5 steel with a zinc finish; in grade 8 steel with a plain or zinc yellow finish; and in 18-8 stainless steel. Diameters range from 1/4" up to 1", with lengths available up to 15".
For Information about bolt grades & head markings, check out our latest Fastener Guide.