Fastener Superstore Blog
What Grade of Stainless Steel is Right for Your Application?
September 12, 2019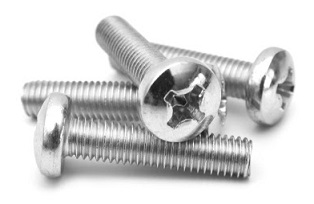 18-8 stainless steel, also sometimes called 304 stainless, is the most common type used for fasteners such as machine screws and nuts. It contains 18% chromium and 8% nickel and features strong corrosion resistance, but is softer, and thus weaker, than some other grades such as 410 stainless. Self-drilling screws are available in 18-8, but are generally recommended only when drilling into wood or soft materials. 18-8 is a non-magnetic type of stainless steel.
303 stainless steel is similar to 18-8 stainless, but has a larger sulfur content, making it one of the more machinable stainless steel grades. This machinability has made it very popular in the fastener industry, particularly in the manufacture of spacers and standoffs. It is non-magnetic in it's standard state, but can become magnetic as a result of cold working (being shaped while not heated).
316 stainless steel is both hardened and extremely corrosion resistant, making it a good choice for larger nuts, bolts and washers used in harsh environments, such as coastlines. We carry hex cap screws, along with machine, self-drilling & u-drive screws in 316 stainless. It is non magnetic.
410 stainless steel is a hardened type common in some fastener lines, especially self-drilling screws. The hardening allows for more strength and stability, especially when being installed into metal materials. We offer many other screw types in 410 stainless, as well as some mil-spec parts and washers. 410 is a style of stainless material that actually is magnetic.
We offer several mil-spec part lines in general 300 series and 400 series grades, and coiled spring pins and roll/spring pins in 420 stainless. Many of our 18-8 and 410 stainless lines also feature parts with a black oxide finish.