Fastener Superstore Blog
RoHS Compliance at Fastener SuperStore
March 02, 2020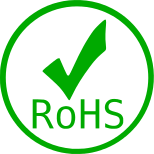 What is RoHS?
RoHS stands for "Restriction of Hazardous Substances" Directive and was adopted by the European Union in 2003. It restricts the use of several hazardous materials in electronic and electrical equipment. In its current amended version, RoHS 3, it includes ten total restricted substances.
Who does RoHS affect?
RoHS most directly affects companies that produce electronic or electrical products that will be sold in the European Union, but many other countries, and even some states, have adopted similar requirements, in line with RoHS 3 standards.
How do I acquire RoHS compliant parts from Fastener SuperStore?
Most of our product pages have a "Product Specs" section on the right side of the page. "RoHS" will generally be the last line in this section and will be noted either as "Compliant" or "On Request". "Compliant" means your purchase will be RoHS compliant and will be noted as such on your shipping confirmation and packing list. If it is noted "On Request", simply add a note to your order indicating that you require RoHS parts and we will make sure that you get RoHS compliant stock. We can also send RoHS Certificates of Compliance with your order upon request.
You can find Fastener SuperStore's official RoHS, REACH and Conflict Materials statement here.