Fastener Superstore Blog
Socket Drive Precision Shoulder Screws
October 04, 2021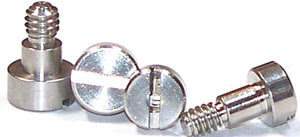 Slotted Precision Shoulder Screws are also available in diameter-thread counts of 4-40, 6-32, 8-32 & 10-32, & with shoulder lengths from 1/8" to 1 1/2" long.
Like their socket drive counterparts, they feature a shoulder that's wider than their threads which provides the surface area that rests on the material that is being held in place. The area from that surface to the bottom of the head is called the shoulder, and is where the length measurement comes from.
They also feature a round diameter head that allows for quick removal, adjustment & reinsertion. They can be installed by hand, or with a slotted screw driver for a tighter hold.